When it comes to specifying a high vacuum pump, you want to know as much as possible about the design and construction details. We put together this spotlight report so you can compare the details of MHV pumps with others and make an informed decision.
CAD/CAM Design
Our engineers use the latest technology CAD/CAM Systems to design our high vacuum pumps. They are checked and then re-checked. These details are then downloaded to our MAZAK machining centers that precisely manufacture all the parts, which are then submitted to stringent quality testing, using custom-designed gauging equipment.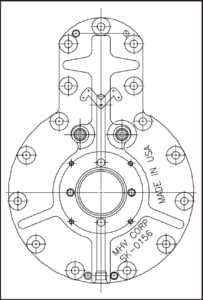 SPOTLIGHT REPORT ON HIGH VACUUM PUMPS
We set the standards and provide the lowest long-term cost of ownership.
Metallurgical High Vacuum
Others
FEATURE
BENEFIT
100% American Made (9)
High-quality standards
??
Oil sealed Rotary Piston Design
Excellent reliability in adverse operating conditions
Rotary vane pumps, dry pumps, diaphragm pumps
All pump bearings are spherical roller type
Withstands acidic environments better than ball bearings
Ball bearings
Full pressurized lubrication with oil filtration (4, 13)
Longer pump life.
?? Most use vacuum to circulate oil
Dual spin-on oil filters (5)
Longer pump life, easier maintenance
None ??
Available acid filter
neutralizes hydrochloric and hydrofluoric acids for longer life
??
"Filter Fink" Oil Filter Condition gauge (2)
Easier maintenance, shows when to change filters
??
On-board run hour meter (3)
Helps with maintenance logging
??
Oil pressure and oil temperature gauges (4,10)
Simplifies pump monitoring
??
Premium efficiency Reliance "XEX" totally enclosed, fan cooled motor (1)
High efficiency, withstands rough environments
Standard efficiency, open drip proof motor
Rugged, ventilated sheet metal guard (11)
Operator safety, longer belt life
Non-ventilated, plastic belt guard
Premium mechanical shaft seal with ceramic coating
Longer life
??
Inconel valve springs are standard
Crack-free operation in corrosive environments
??
Water temperature modulating valve standard
Reduces water usage and assures proper pump temperature regardless of pump gas load
??
Direct bolt-in replacement
Easy interchangeability
??
Construction: Class 40 Grey Cast Iron Body & Pistons
Withstands rough conditions
??
Moving Parts: 4150 Heat Treated Steel
Less wear, longer life
??
Manufacturing and Quality Control
After assembly by our skilled technicians, all pumps are subjected to a run-in period and a stringent test for performance, including a helium leak check and base pressure measurement. During the run-in period (hot test), a glycol-water solution is used to cool the pump. This prevents cracking of the water jackets if the pump is later subjected to sub-freezing temperatures. We supervise and audit each pump test right here on our factory floor. We then produce a signed test report showing the pump's performance.
Long Life Design Features
MHV pumps incorporate our experience gained since 1981 in the high vacuum field. We've seen how pumps fail. We've also seen why they fail in demanding thermal process applications. That is reflected in our approach to making better pumps that withstand tough conditions.
Bearings used in MHV
We use spherical roller bearings in our pumps, and these last longer than ball bearings even under acid oil conditions. The original Stokes 412 pump main shaft used a double row ball bearing on each end and a spherical roller bearing in the center.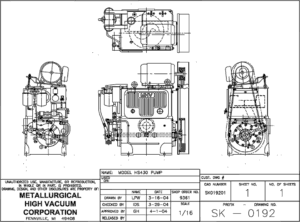 Bearings used in MHV pumps save the day
In order to operate, a ball bearing must have a ball radius less than the race curvature. This results in a point contact of the ball to the race which "spreads out" to a small "oval" area under load due to elastic deformation.
By replacing the duplex ball bearings with spherical roller bearings, the ball to race contact is changed from a point to a line which allows considerable more load capacity in a smaller overall package. The line contact (which changes to a small rectangular area of contact due to elastic deformation of the rollers and races) also allows longer life in acid oil environments.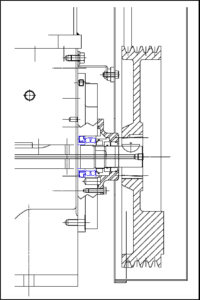 In acid oil environments, the ball bearings can fail rapidly – internal clearance can increase from a few thousandths when new to well over 30 thousandths in a few weeks! As the bearing clearances increase, the mechanical seal begins leaking and base pressure on the pump increases. Unfortunately, a new seal will quickly fail until the underlying bearing problem is rectified.
The exact failure mode in the failure of the ball bearing is not known but it appears the acid in the oil attacks the balls and races, reducing the ball diameter while at the same time increasing the outer race diameter. Excess bearing clearance quickly results. There is no spalling or gross pitting corrosion of the races or balls, they appear smooth. Races and balls have a light brown coating all over and we suspect an oxidation mechanism is occurring. An identical failure mechanism is occurring in the spherical roller bearing but the fact that it has line contact and can better support the load "saves the day".
Pressure Oil System
A standard gear-type oil pump (6) provides positive lubrication of bearings and all other moving parts such as pistons, hinge bars, eccentrics and piston slides. Oil is injected into the critical tang/hinge bar interface to prevent dry start-up galling.
Maintenance Monitors
Oil temperature (10) and pressure (4) gauges and an hour meter (3) are standard in our pumps to help with maintenance logging.
Contamination & Oil Filtration – Not just one, but two spin-on filters (5) are used on MHV pumps because we've seen premature pump failures caused by oil contamination. We have included two places to monitor your oil condition—and oil level gage (8) and oil flow sight gage (7). We've also seen excess maintenance, with filters, changed early, which is why we've also included an oil filter condition gage (2) that signals when it's time to change filters.
Note: Numbers in ( ) refer to photograph below.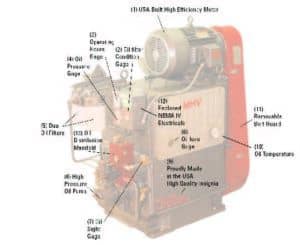 Higher Pumping Speed
MHV's 430 cfm model (HS430) will pump 33% faster than 300 cfm Stokes models and gets to working vacuum levels in less time, as shown in the chart below.